Empowered Millennial Women: Powerful Antioxidants Against Cancer of Terrorists
This is remarkable given that the U.S. Government spends $9 million daily to fight ISIS. Rather than ensuring a greater sense of safety and security, we've become most fearful of something we didn't even know about just 2 years ago.
This is the power of fear.
Like cancer, it hijacks the good cells
and uncontrollably replicates the bad ones.
What we need are "antioxidants"
(against our global fear and against our home-grown terror and violence.)
Appallingly, the U.S. is the most violent nation in the developed world. Sadly, we're experiencing this in Ferguson, Baton Rouge, Dallas … a list that grows daily.
What exactly are antioxidants?
They're a powerful substance that prevents and stops cell damage.
A counter force to bad cells and to cancer-causing agents.
In essence, antioxidants are agents of change.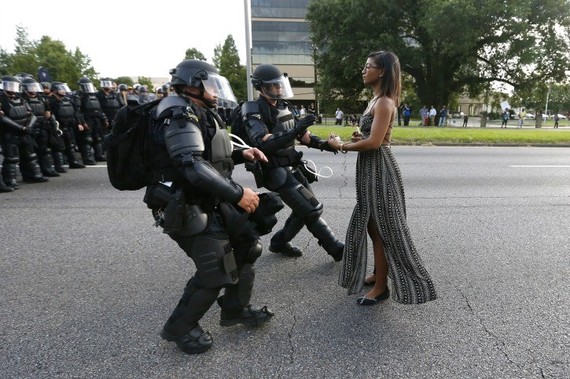 Photo: Jonathan Bachman / Reuters
The single greatest predictor of a nation at war is not lack of democracy, poverty, or religious or ethnic conflict. It is violence against women.
Violence against women is not just a by-product of war, but more profoundly, the strongest forecaster of war. Therefore eliminating violence against women and girls is central and should be the top priority and foremost strategy in countering ISIS and terrorism.
The key to eliminating violence against women with an enduring impact is women's movement – empowering and mobilizing women.
These are the results from an extensive multi-country analysis and the largest global study on violence against women, respectively. Furthermore, the global study also underscored that social movements shape government priorities and policies, not the other way around. So building and maintaining a vibrant civil society is the solution to failed states, and women are at the forefront.
Empowerment and agency are exactly what millennial women want and what they are actively taking action to develop.
According to the first-ever women's empowerment global survey: Voice & Choice: What Young Women Want, millennial women's deepest desire is personal growth and development. This was the #1 answer – more than career, relationship and even changing gender norms – across Africa, the Middle East, South Asia, and developed nations including USA, UK, France and Australia.
Furthermore for those who are "empowered" – who have become agents of change – the # 1 contributing factor is self-awareness, knowing who you are (described as having inner strengths, self-worth, purpose and meaning in life.) It's what led them to action for positive change. Surprisingly, education was the distant third contributor to empowerment, despite the fact that it is the focus of most international organizations and donor governments, including US.
Thankfully, millennial women like Roubin are not waiting for her government or ours to empower them. This ordinary young woman from Syria who has endured extraordinary circumstances now aspires to empower other female refugees right where she is.
"More than 25,000 female refugees are in my town (in Germany)," she told me. "So many of them do not know their rights and newly acquired freedom. Sadly, they still endure discrimination, domestic violence and persecution…like they never left their birth countries. I want to change this injustice – educate them about their rights and help them integrate into the German society."
Where does her inner strength come from? After witnessing her government – the Assad regime – shoot her best friend, Roubin fled to Turkey, was smuggled into Bulgaria and then went on an unimaginable journey to Germany by foot and packed into a small car with 20 other people. This tested her resilience. It accelerated her self awareness. She also she remembers her friend being shot.
What fear mongers do not know is that Roubin and others – the next generation of Nobel Peace Laureates – are taking action despite their fears. In fact, they are transforming their fear into positive action, bringing about true and sustainable peace and security for us all. This is the process of empowerment – transforming fear into positive action.
JFK proclaimed that we must not only defend the frontiers of freedom, but also pursue the paths of peace. He also said we must help to promote self-actualization in others.
Right now, the most powerful group
to help self-actualize is – Millennial Women.